MICR Toner

IDAutomation's affiliate offers several MICR toner cartridges for popular printers including HP, IBM, Dell, Xerox, Lexmark, Apple and Brother. This is a trusted source; IDAutomation has been using their toner cartridges for over 5 years.
MICR E13B Placement Gauge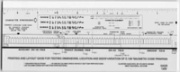 The placement gauge is used to verify placement, print intensity and spacing. It may be used as a guide and troubleshooting tool if MICR read problems are encountered.